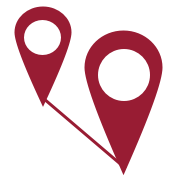 Platform for the Individual mobility

Thanks to the Individual Mobility Platform, Duel supports travelers' mobility with traffic news in real-time via radio, smartphones, or the vehicle's car entertainment systems.
The goal of the Individual Mobility Platform is to help travelers minimize the problem of urban traffic.
The Duel technological platform processes and distributes customized traffic newsby catchment area or individual user through a wide range of multistandard format converters. It sends events, text and audio news to smartphones, car entertainment systems and radio stations.
Individual Mobility Platform Smart Traffic News ®
With Smart Traffic News ®, travelers receive personalized traffic information, by location and user destination, with news in voice and natural language.
Through an original process of selecting and aggregating car speed data on the road network, the Duel technological platform processes and sends travelers a personalized description of traffic events along with their itinerary or issues warnings in the event of challenging situations on the road.
The Smart Traffic service uses an original process of selection and aggregation of Big data with creation of textual events and production of bulletins in natural language according to user profile. The process has been granted patents by the competent Authorities of Belgium, France, Germany, Netherlands, UK, Spain, Switzerland, USA. Patent applications for India and Russia are being examined.
Personalized traffic information for the automotive market
Thanks to Traffic Player®, drivers receive personalized traffic news on-demand or proactive alertsfor critical situations on the road.
The application was developed for iOS Carplay and Android Auto.
Audio Streaming & Navigation App
The Traffic Player® service can be integrated into third-party applications, such as music streaming operators. This allows music-loving travelers and commuters to stay informed of traffic conditions along their route.
The application was also developed for iOS Carplay and Android Auto.
Duel offers automatic text traffic news creation servicesdedicated to radio to provide listeners with complete and accurate traffic information, immediately ready to be communicated.